What Media Desk does for you
Media Desk is a true end-to-end media ecosystem: planning, controlling and evaluation of all your media campaigns in one tool. From briefing to booking to ad management. Say goodbye to error-prone and time-consuming planning using Excel or a multitude of booking and management tools. Your stakeholders and clients can directly access the current plan version and control approvals.
Save yourself and your team hundreds of hours with intelligent planning support, automated auditing and one-click ad management. Your entire IO and Programmatic world in one dashboard.
The entire paid media process across all media in one place. For all stakeholders, planners and clients.
Hundreds of hours less monkey jobs
Higher planning quality through planner-supporting algorithms
One-click ad management with all common ad servers and DSPs
Audit-proof versioning and documentation
Data integration of your entire media and marketing ecosystem via API – Tracking, AdServing, BI, Finance
Clear and flexible rights and roles concept
Data Guarantee: Your data remains your data, forever.
Promised: No more Excel!
The entire planning and activation process in your hands
Media Desk maps the entire media planning and activation process: briefing, planning, buying, ad management, reporting and financial controlling – free of redundancies, centrally controlled.
BRIEFING
» Targets and KPIs
» Document Upload
» Timings, Task and Deadline Management
» Technical costs
» Various fee models
PLANNING
» Excel-free planning in Media Desk
» AI support, such as media and line item suggestions, price benchmark, what-if analysis
» Performance forecasting through machine learning
» Maximum productivity and consistency through copy & paste, drag & drop, templates
BUYING
» All bookings generated and sent with one click
» InBox function and all communication with publishers
» One-click cancellation for plan optimizations
» Overview of all booking statuses and confirmations
AD-MANAGEMENT
» One-Click Ad-Management per AdServer-API
» Media Desk pushes line items directly into your AdServer or DSP
» Pacing overview of all placements, automated alerts to publishers
» Error-free ad management with minimal effort
REPORTING & CONTROLLING
» Data Integration of your AdServer and DSPs
» Live calculation of KPIs from AdServer and planning data (e.g., Rol, CpC)
» Reporting on the Fly
» Agency-wide statistics and benchmarking
» Performance history of all Line Items
» Full financial controlling
Fully integrated – into your systems and the media ecosystem
Media Desk is the heart and singular database of your media planning and activation. Based on a comprehensive API, all data stored in Media Desk can also be integrated into customer systems. Furthermore, Media Desk controls the Programmatic and IO Media world for you, so that ad management is reduced to a minimum. Through existing interfaces to various backend and finance systems, financial controlling is also automated as far as possible.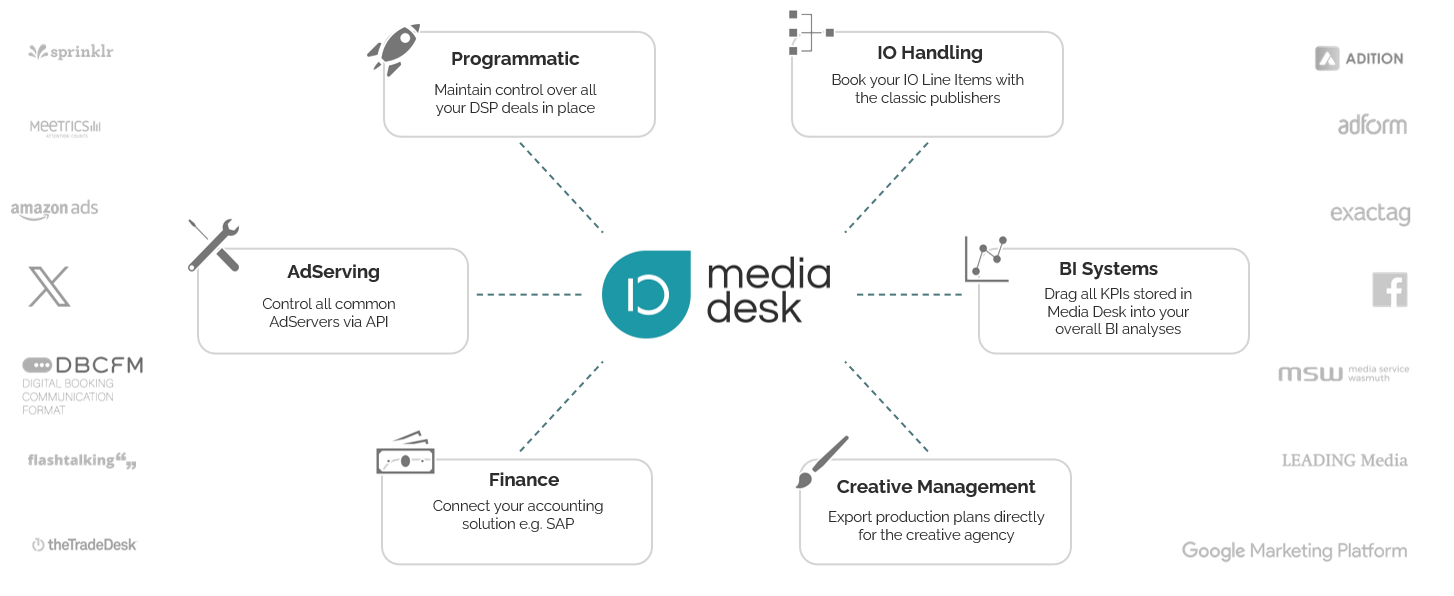 Clients and Partners
1&1 + Rewe

OMG + VF


C&A + add2


salesforce + adform


google analytics + insta


flashtalking + google mp


LM + msw


meetrics + amazonads


sprinkl + twitter


sap + aprimo


adition + adobe


Google Ads + Looker Studio


LinkedIn + Meta


dbcfm + adclear


zemanta + zulu5


audienceproject + hawk


microsoft ads + exatag


What makes Media Desk unique

Management
Cross-agency forecast & evaluations of budgets & KPIs
Monitoring of publisher commitments
Monitoring & optimization of complex fee structures and AVBs
One click auditing – all prices and volumes available live at the highest level of granularity
All learnings and data remain in-house: even when core staff leave the company

Director Level
All teams and campaigns at a glance with dashboards
Quick overview of campaign performance without internal queries
BI analysis of budgets, prices and KPIs for any clients, time periods and media on the fly
Clear rights and roles concept for all hierarchy levels and clients

Media Planner
Error-free and convenient planning thanks to numerous comfort features
No more Excel, no more spreadsheet-stiching
Smart planning support. Media Desk learns from historical data
Negotiation support through comprehensive price benchmarking
Pacing overview with automatic warning levels

IO and Ad Management
Integration in all common AdServers and DSPs
One Click Ad Management
One click Optimizations and cancellations
All communication with publishers in one place (InBox function)
Distribution of working time in conventional media planning…
…and in with Campaign Management Platform
Bulletproof: Media Desk in numbers
Longer than
Years in the market
More than
Media budget realized
What our customers say
Slide

"The development partnership with Digital Control has allowed us to extremely streamline our processes while further minimising errors. Our customers appreciate the high level of transparency and agility that Media Desk enables."
Slide

"In my work as a digital consultant, I have become acquainted with many agency processes. There is often a lack of efficiency and interconnected processes. Digital Control's solutions allow agencies to reduce these inefficiencies and drive digitalisation."
Slide

"Automation, transparency and control are critical success factors in an in-house process. Thanks to Media Desk by Digital Control, we can initiate, monitor, analyse, control and manage the entire paid media value chain."
Team Leader Digital Communication & Technology Vodafone GmbH